Well it looks like a CHIA pet so;
Posted Jul-10-08 06:48:26 PDT
I guess I will be transplanting oodles of turnips, cantaloupes, cucumbers to my garden from the seed starter KIDDIE POOL this weekend. Good grief anyone want some turnips, they have doubled in size and number since yesterday. I have what also looks like 200 teeny tiny sprouts of corn in the other starter pool.
Good eats at my house soon! Wooooo Hoooo Dance with me!
Comment
Report this post
Edit
Delete
My house from the mailbox:
Neighbors Houze: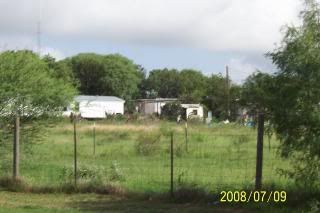 Tomato Starters:
Sunday's Corn Seed Plant
Cukes, Cantaloupes SEE THE CHIA turnips?
In between the CHIA turnips is watermelon sprouts:
A look out the deer netting to our Garden
Corn from the other angle:
.
.