This is what I almost stepped on this morning. Seems the animals are confused with the Texas weather. This one was curled up and I almost stepped on top of it while in my yard. It was like 14 inches long, only had 2 buttons, had just fed and did NOT RATTLE because it was digesting its food.
I got hubby and showed him and then he took the shovel and beheaded it. My boys walk through the yard all the time with sandals and such. Not after today, we are going to buy work boots.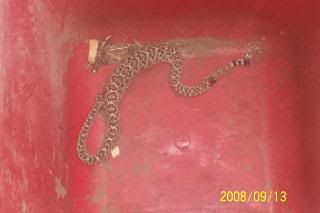 And here are my first two towel hangars I taught myself to make with the advice of frodobaggins and mynetoo. Thanks Ladies, I have another 4 done and they are looking better with each one I practice. My sister just bought her first home and I am making a load of hand made crocheted: hand towels, dish cloths, doilies, table runners to decorate her home. Also will be making about 75 of these as Christmas gifts for others in our extended families.
I hope your slice of heaven is just that---heaven. I know mine is!